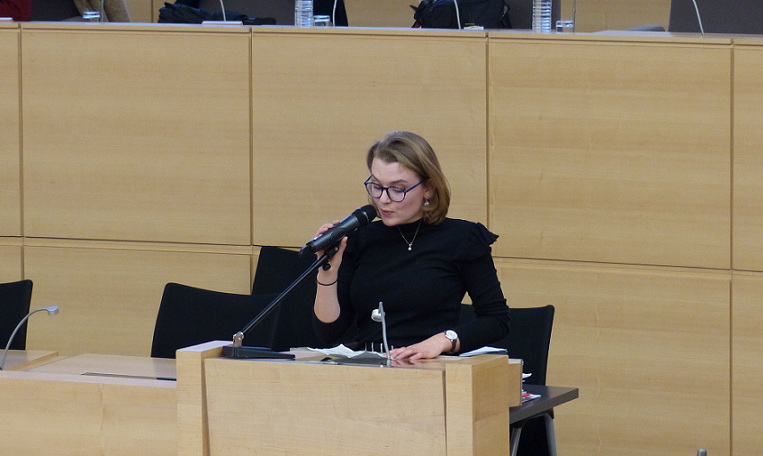 I am studying at the Institute of Political Studies in France in the city of Lille. The school in which I study is characterized by a compulsory third year of study abroad in a foreign country and university. This is one of the reasons why I joined this school. Indeed, I have felt a strong desire and will to study abroad for several years. I am indeed aware that I live in a world where exchanges are multiplying, where meetings are intensifying. Interested in the human and social sciences, I cannot resign myself to looking only within my national borders.
Never having had the opportunity to travel outside Europe, this opportunity offered by my school seemed unique to me.

I chose to accompany my story with this photo for several reasons: first, it seems that discovering the world changes a person. So I chose an image of myself in order to be able to compare when I return to France! More seriously, this photo was taken during a simulation of a Parliamentary Assembly with an association of which I am a member. This is the "IEP Arena": young students gather and simulate the work of the French National Assembly! Participating in this association made me want to discover a foreign country in its political and legal aspects. Indeed, it seems essential to me to be able to understand with intelligence the institutions and laws of my own country, to be able to compare them with a significantly different country like Japan.

I want to study abroad in order to perfect my spoken English, and to discover a school system and a social, political and cultural model different from mine. The choice of Japan as a destination was not always obvious to me: it was the courses offered by the University of Kobe that convinced me. Indeed, I have always had a vivid interest for law. The courses offered by the University of Kobe, my desire to discover Japanese culture and language, as well as to perfect my knowledge in the legal field, lead me to the decision to apply for a year abroad at the University of Kobe in Japan!

To summarize my objectives: I want to open my mind beyond national borders to understand contemporary global issues. I would like to get in touch with students from all over the world. I would like to improve my knowledge in the political and legal fields at the international level. More specifically, I would like to discover the language, culture, history and people of Japan. I also hope to have the opportunity to travel through Japan to discover the specifics of each region, and the traditional and ancestral crater of this country and its inhabitants. I would like to fully invest myself in the courses offered by the University of Law of Kobe in order to have a unique experience of the daily life of Japanese students! Finally, I want to become more independent and autonomous in order to prepare myself for a rich professional and human life!