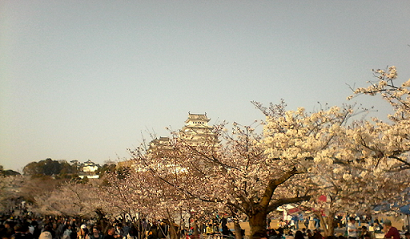 For the last part of my study abroad, I attended classes that were maybe for a level more advanced than mine. Even if I am not sure how the results will turn, I think that it was a good experience to progress, as even if I am terribly shy, I think I improve my speaking skill, and the reading and writing classes were very interesting. I also had the opportunity to take part of a French class to help students to translate French texts to Japanese. I knew I was interested in teaching before, but this experience had confirmed to me that it was the way I want to follow.
I also continued my visit of Japan. I visited Sasayama castle, Koya mount (for a person who loves architecture and spirituality as I do, it was a real experience) and the main event of the end part of my visit here was the hanami in front of the Himeji castle, and the light spectacle at night nearby the castle. The same kind of event took place a few weeks ago in Kobe with a lantern festival for Tanabata. Finally, I hope I will be able to go to Hiroshima before I come back to France. Obviously for the historical reasons, the "French cook" cliché that I would like to try the Okonomiyaki of Hiroshima, as I have already tried the Osaka one.
For my last weeks in Japan, I will try to see and do as many things as I can. But one thing is sure, it is that I really enjoyed my study abroad here, that I am and will be thankful for this experience and Kobe will stay kind of a "hometown" in my heart from now.