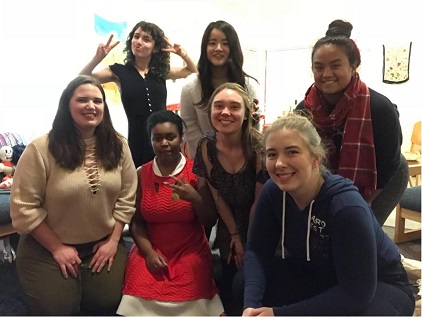 There is a lot of nature at The Evergreen State College, which is located in Olympia, Washington. When it's sunny, I go to the beach near the campus, hiking, and star watching at night. On campus, there are also animals like deer, rabbit, fox, squirrel and so on.
Especially, at The Evergreen State College, the distance between a faculty and a student is much closer than the other colleges in the U.S. and in Japan. I sometimes meet my teacher out of the class and send them text messages every day. Basically, class starts at 9 am and finishes at 4 pm, 3 days a week. We mainly discuss in the class based on reading assignments. You might think "You study 7-hour a day for one subject??", but it goes by so fast!
Assignments are totally different from Japanese ones. For example, in the winter quarter, in a business class, "Talk to more than 10-people you don't know and promote your ideas/products. Then, if someone is interested in your idea, ask his or her e-mail address." I was surprised because I've never done this before.
As for dormitory life, I live with five girls. We do parties seasonally, study outside when it's sunny and go interesting places around town. I have a good time every single day.
On my breaks, I usually go to other cities like Boston, NYC, Miami, and Vancouver. The difference in atmosphere between these places I mentioned earlier and Olympia has been the most interesting part of this experience.