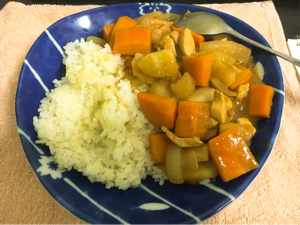 I lived alone in Japan. I didn't cook at all in China,but I have to cook by myself here. Though it's difficult for me to cook,I became enjoy the process of cooking. The photo are the cusine what I cooked. Initially,I was surprised at expensive prices in Japan. Especially,the price of fruits is very expensive. Naturally I compared japan with China. Now I have been used to it. I like supermarket and drug store in Japan for there are a variety of goods. Moreover,I can pay with Chinese apps in some supermarkets and department stores. Before I came to Japan,I was worried about that I can't be accustomed to the life in Japan,but,I got used to the new environment well more than I thought. I enjoyed the life in Japan. However,there are so many fried food. I am not used to eating it even now.

I also enjoyed having studied at Himeji Dokkyo University. The teachers with abunbant knowledge,thinks it's important to communicate with students. I could speak with teacher like a friend. Through the communication with teachers,I learned a lot. I not only learned the contents of textbook,but also discussed Japanese society,history and so on with teachers.
I broaden my horizons. It's different from university in China. In Japanese university,studying voluntarily is emphasized. Studying here,my Japanese ability gradually improved. I am very happy because I made some Japanese friends. Studying and playing with them,good memories are left.