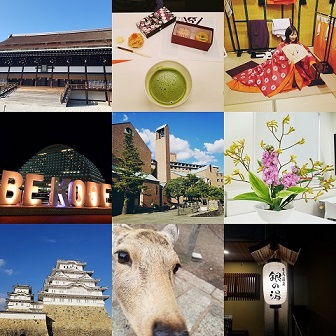 It has already been five months since I came to Japan to study. Looking back over the last 5 months in Japan, I enjoyed my daily life a lot and have learned many things about Japan.
I took a lot of lessons on Japanese culture and history in the last semester, such as the culture of kado, etc. On this course, I experienced Japanese flower arrangement three times and learned a lot about the culture of kado. I find flower arrangement very interesting and got attracted by it. Also, the teachers and classmates in the college were all kind to me. These lessons provided me with the chance to practice my Japanese and improve my Japanese skills. Besides, I gained much knowledge which I had not studied before in domestic classes, like the culture of flower arrangement and the dynasty culture of Japan, and I was enabled to experience wonderful Japanese culture on my own, deepening my understanding by actually visiting Japanese temples and shrines.
In terms of daily life, I experienced various things about life in Japan like taking a train by myself, experiencing hot springs, and experiencing interesting traditional festivals in Japan. By experiencing life in Japan, I broadened my horizons and knew more about the habits and customs of Japan. I always pay attention to the differences between Japanese culture and Chinese culture and try to understand those differences. By reading books and articles about this, I managed to understand the reason why the differences arose, which is very helpful for me to avoid some trouble in cross-cultural communications.
I also made friends with many Japanese people and chatted a lot with them. Through chatting with them, I heard many opinions about Chinese people and their thoughts about Chinese culture. Having conversations with Japanese people did not only improve my Japanese skills, but also helped me learn more about Japanese culture. I always find Japanese people very kind and friendly to foreigners. I would like to actively interact with Japanese people more and experience more things about Japanese culture in the future.