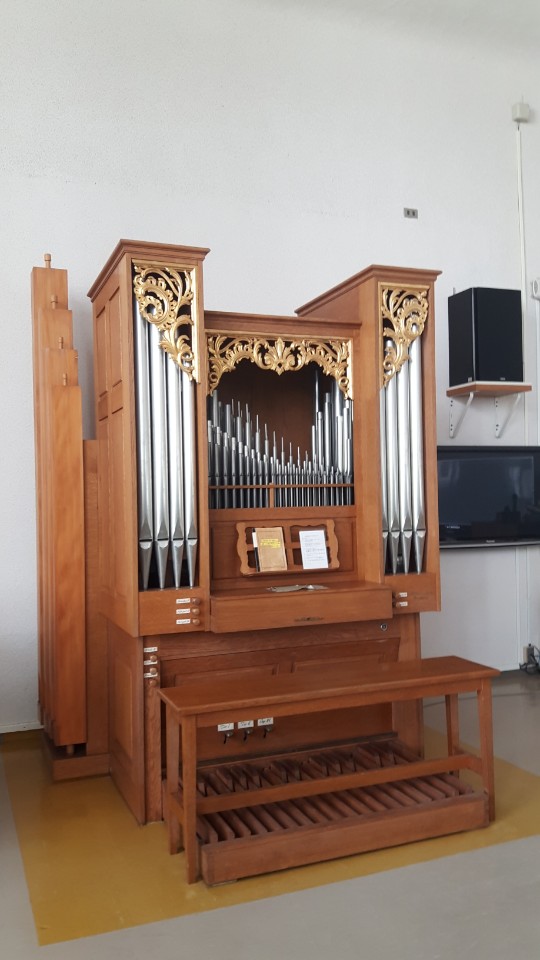 It is nice that there are a lecture about 'Takarazuka Revue' which I am interested in.
In this lecture, we learn the history, some of famous performances and the celebrities of Takarazuka. The professor is also a big fan of Takarazuka, so he is very passionate about this class and teaching us. Visiting theater and enjoying the play is included in this class. In autumn, we invite the former takaraziennes or people from the revue and have a kind of talk show in our university. Plus, there are many students who love them, so we can easily meet and communicate each other.

There are absolutely beautiful two pipe organs and many pianos in the campus of Konan Women's University, even though there is no music college here. In liberal arts or a subject of Early childhood Education, Students can have a chance to learn how to play the pipe organ as well.
In the course, now I'm learning how to play the pipe organ, which is a little smaller than 'the great organ' in the main auditorium, but still it is awesome and our instructor is the professional organ player. Actually, I can play the piano so I am used to playing the keyboard but controlling the pedal using my feet is still difficult. One day, I reserved a classroom to practice a full song. This kind of experience is also fresh and made me feel good. Plus, I searched for a church which have a pipe organ for my assignment. I usually think of Japan as a country which doesn't have many Catholic or Christian, so it is impressive there are many churches which have a organ. There are often many free organ concerts. Going to these concert is one of my favorite things and I really enjoy it.