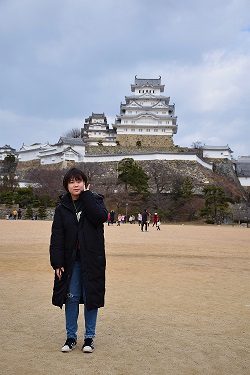 When I first arrived in Japan, I felt like crying. The simple tasks were not solved easily due to communication problems and it was hard to decide which courses to take. It was the teachers and tutors at Kobe University that helped deal with this problem. I could determine which classes to take by explaining my present situation and consulting them. They also provided solutions to problems in daily life, including questions about learning. It helped me adapt a lot to living in another country.

After three months of adjustment, I began to see the good things about Japan. Kobe is a port city that is clean and has a beautiful night view. My dorm was located on the middle of a mountain so I could see this beautiful night view every night.

Another attraction of Kobe life is the ability to learn the dialect of Kansai region. Kansai dialect is used by almost all the citizens of Kobe. However, this dialect differs slightly from standard language, intonation, and words. When I first came to Kobe, I heard dialect and was very embarrassed because it was different from the Japanese I studied. Mentoring sessions at Kobe University allowed me to learn about the Kansai dialect, and now I have become somewhat familiar with it. Even I found Kansai dialect attractive. Recently, speaking the Kansai dialect fluently became one of my wishes. If I had gone to other places in Japan, maybe I would have never known about this attraction.

Japanese writing lessons at Kobe University for foreign students were very helpful. The class taught me the form of writing an essay in Japanese, and the expression that should not be written.

The final goal of the class is to write a dissertation on a Japanese subject. When I first wrote it, I was at a loss what to do with the topic. However, with the help of my teacher and Kobe University students, I was able to write a dissertation based on the results of the survey. In the future, I plan to write a dissertation using what I learned in this class when I write a paper in Japanese.

After one semester in Japan, I am spending spring vacation. I plan to travel several parts of Japan that I have not been to during this spring vacation. Also, I want to take more undergraduate courses with Japanese students next semester.