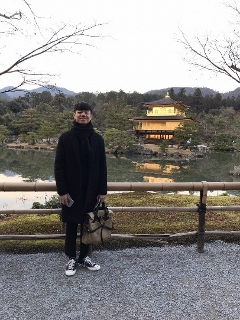 Whilst studying at Kobe University I've experienced various things. I think studying abroad at Kobe University has been especially good as I've been able to share various ways of thinking about study and life with lots of foreign exchange student friends and Japanese friends. In Korea, as everyone's viewpoints are very similar. I learnt about various ways of thinking different to those which exist in Korea. Through these new ways of thinking, my horizons have been expanded.
When I've had time, I've enjoyed travelling. For instance, I visited various places such as Tokyo, Kyoto (The Temple of the Golden Pavilion, Fushimi Inari-taisha), famous tourist sites in Osaka (Kuchu Teien observatory, sightseeing tram, Osaka castle and Dotombori), and Himeji castle. Through travelling I have reassessed my views on life, and have decided that from now on I will work towards understanding how I can lead a happy life.
At the moment, I work two part-time jobs. One of these jobs is a Korean language teacher and the other is working in a supermarket. In both workplaces, I have been kindly taught a lot about Japanese culture and the Japanese way of thinking as I actively try to speak to people whilst working. As a little bit of my foreign exchange life remains, I think I would like to try something such an internship along with trying my best with study. Up until this point, I have amassed much cherished experiences and I would like continue to try my best for the remaining of my study abroad.