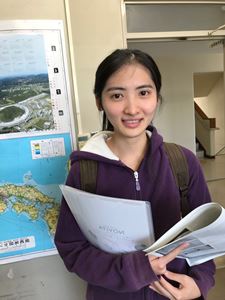 It's lucky to get this chance to do exchange in Hyogo University of Techer Education. I have many "the first time" here. The first time of having Japanese classes, traveling in Japan, tasting horse Sashimi……
Here, I met Takemura teacher, my tutor Yasuha, members in geology major and science course, friendship family, international team. They are really nice and gave me a great deal of help.
Once I lost my wallet, some of great value inside was missing. I was at a loss what to do that time. Fortunately, I met a taxi driver, who taught me what should I do when I lose things in Japan. The police and the staff in international team also helped me a lot. Finally, I got my wallet back.
The classes I took here were quite different from my major in my mother school. However I can have the lessons so long as I want. This enhanced my positivity.
Living in Japan is becoming my daily life. Cooking, cleaning, marking budget and so on, are making me more and more self-discipline and independent. Sometimes, the friendship family invites me have activists together, which makes me feel the warmth of family although in Japan.
I wish I could come back for master degree. I love Japan.